Everything You Need to Know about Kia Apple CarPlay™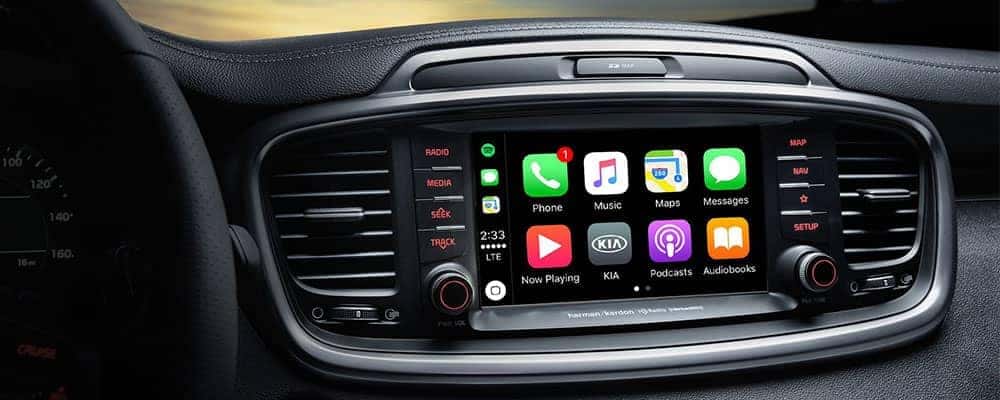 Kia Apple CarPlay™ lets you turn your in-dash display into a smarter way to use your smartphone. You can control everything from navigation to music streaming using your display, including third-party apps and the following compatible Apple apps:
Phone
Music
Maps
Messages
iBooks
Podcasts
It's the perfect feature for on-the-go drivers who never like to lose touch, so we're here to tell you how to make the most of it. You can find Kia Apple CarPlay™ on most of our Kia models, like the Kia Sportage.
How Do You Use Kia CarPlay?
Setting up your compatible iPhone is easy. Simply:
Access your in-vehicle display and choose SETUP, then CONNECTIVITY or PHONE PROJECTION.
Select ENABLE Apple CarPlay™ and accept it.
Connect your iPhone to the vehicle's USB port with your Apple Lightning cable and accept any requests/agreements.
To use Apple CarPlay:
Tap Apple CarPlay™ on the head unit screen.
Tap buttons on the head unit screen to launch select apps (tap the KIA button to return to your home screen).
Use the VOICE COMMAND button on your steering wheel to access Siri. Just say "Call Robert" or "Read my new message."
What Can You Do with a CarPlay Kia?
Kia CarPlay allows drivers to make the most of their smartphone when cruising between Anoka and Coon Rapids, or sitting in a café in Rogers. Just a few popular features include:
Phone: Make or take calls and listen to voicemail. You can access your contacts using voice commands alone.
Maps: Say or enter a destination or find nearby points of interest. CarPlay even predicts where you might want to go.
Messages: Siri can read your texts aloud. To reply, simply dictate a response.
Music & Apps: Listen to anything from music to audiobooks to podcasts. If it's on your phone you can bring it to your car.
You'll also gain access to a wide selection of third-party apps that's growing all the time.
Find the Latest Kia Lineup and Enjoy Next-Gen Smartphone Integration
To experience the convenience of Apple CarPlay™ first-hand, why not visit Cornerstone Kia to check out the inventory in person? If anything catches your eye, feel free to contact us or apply for financing online. Or, if you're an Android user, explore our guide on connecting to Android Auto. Want to learn more with our team? Compare Kia vs. Hyundai with our team!